Whether you prefer to sew garments, quilts or home decor, you'll find a Baby Lock machine to help your creativity shine. We have a great selection of sewing products for any level, any budget and any interest. Plus Baby Lock sewing machines are so easy to use and durable, you'll find yourself doing more creative projects than before.
Baby Lock started over 50 years ago when several engineers from a sewing machine factory wanted to bring the industrial overlocker machine (now called a serger) to the home market. That was when people created their own clothes and struggled making them faster and more professional looking because they couldn't construct the inside seams. When the machine launched, the serger was a "baby" version of the industrial overlocker, and justly called "Baby Lock". Now millions of people enjoy the home serger because Baby Lock's vision to make sewing easier, more professional and faster.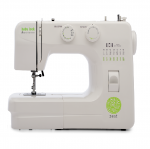 Baby Lock Zest Sewing Machine (Item #BL15B)

?Ready to find a new sense of excitement through sewing? The Zest will be a great place to start! Compact and durable, it's perfect for anyone starting out or in need of a travel machine.


Baby Lock Joy Sewing Machine (Item #BL25B)

If you've ever fixed a hem with a machine you didn't like, it is a hassle. You can now make it a Joy! The Joy is the perfect choice for beginning sewers looking to add to their crafting opportunities or make small sewing projects.


Baby Lock Zeal Sewing Machine (Item #BL35B)

Any project, big to small can be made with genuine Zeal. With 25 stitches and 6 snap-on feet, the Baby Lock Zeal is the perfect choice for DIY-ers, crafters or seamstresses. Durable, versatile and compact, regardless of what you create!


Baby Lock Vibrant Serger / Overlocker (Item #BL460B)

Want to start serging but don't know where? This is where serging begins: Vibrant is the perfect introduction to the art and craft of serging. Pick the machine from the brand who brought sergers to the home market: Baby Lock!


Baby Lock Jubilant Sewing Machine (Item #BL80B)

The 50-stitch Jubilant is a good machine for sewing projects like quilt piecing, home decor and garments. Versatile for your go-to machine or ready to go on the road with you to classes or a friend's house.


Baby Lock Presto Sewing Machine (Item #BLMPR2)

The Baby Lock Presto II quilting and sewing machine features 100 built-in stitches and a bright LCD touchscreen that allows you to select and adjust stitches note by note.


SALE:
$ 1,299.00

$ 599.00





Baby Lock Jazz 2 Sewing Machine (Item #BLMJZ2)

The Jazz II comes with everything a sewist or quilter would want, plus the features you need on a utility stitch machine to get the job done – all at an affordable price!


SALE:
$ 1,299.00

$ 699.00





Baby Lock Verve Sewing & Embroidery Machine (Item #BLMVR)

Baby Lock Verve is the perfect fit for all your embroidery and sewing projects. Compact in size, it's loaded with the features you need, like 95 built-in embroidery designs and 191 stitches.


SALE:
$ 1,299.00

$ 699.00





Baby Lock Brilliant Sewing Machine (Item #BL220B)

A sewing machine that's suited for any type of project? That's genuinely BRILLIANT! Part of the Baby Lock Genuine Collection, the Brilliant sewing machine is ready to handle anything from garments to home décor to quilts with ease. Plus, it's packed with


SALE:
$ 1,799.00

$ 899.00





Baby Lock Celebrate Serger / Overlocker (Item #BLS1)

The easy-to-use Baby Lock Celebrate 4-thread serger includes world-famous Jet-Air Threading to thread lower loopers with a lever, which will change the way you think about serging forever. And its adjustable manual tensions allows for perfect stitches.


SALE:
$ 2,499.00

$ 999.00





Baby Lock Flourish Embroidery Machine (Item #BLFMO2)

Packed with user-friendly features, the Flourish II embroidery only machine includes an LCD touchscreen. Easily edit designs, embroidery fonts and more all in one place. Your embroidery skills will thrive like never before!


SALE:
$ 3,499.00

$ 1,499.00





Baby Lock Pathfinder Embroidery Machine (Item #BLPF)

Let the Baby Lock Pathfinder embroidery machine lead you through new creative opportunities, with features that are perfect for both new and experienced sewers alike.


SALE:
$ 6,499.00

$ 3,999.00





Baby Lock Accomplish Sewing Machine (Item #BL520B)

There's nothing you can't accomplish with this machine! The Baby Lock Accomplish sewing machine is built for speed and ready to help you make projects like quilts and purses, but it's also tough enough to sew on thicker fabrics.


Baby Lock Alliance Embroidery Machine (Item #BNAL)

The Baby Lock Alliance single-needle, free-arm embroidery machine lets you embroider easily in tight quarters and even on three-dimensional projects. Its narrow embroidery arm and specially designed small hoops and frames like inside pockets, sleeves, eve


SALE:
$ 6,999.00

$ 4,999.00