Whatever inspires you to create - sewing, quilting, crafting - Brother has what you need to make it happen.
Preorder: Brother Luminaire Upgrade ($100 Deposit)

Get the fall 2020 upgrade for your Brother Luminaire! You will discover all the features to keep your machine at the top of its game.


Preorder: ScanNCut DX Innov-is SDX230DX Disney ($100 Deposit)

The only series of home & hobby cutting machines with a built-in scanner, brings the touch of Disney to your favorite crafting projects! This Limited-Edition ScanNCut DX just got a whole lot better with the addition of a new bundle in the box!


Preorder: ScanNCut DX Innov-is SDX225F ($100 Deposit)

Get Brother's revolutionary Auto-Blade sensor technology cuts almost anything like precise quilting fabric or raw edge applique. Also included is a fabric key chain project will get you started right out of the box!


Brother Disney NS1750D Sewing and Embroidery Machine

It sews! It embroiders! 125 built-in embroidery designs 10 fonts including 45 Disney embroidery designs. Call for pricing.


Brother Disney NS2750D Sewing and Embroidery Machine

This completely new design boasts a 5" x 7" embroidery area with embroidery speeds up to 650 spm.


Brother NQ700PRW Sewing and Quilting

The Innov-is NQ700PRW offers convenience, flexibility, and quality all at an affordable price you'll be sure to love!


Brother NS85E Project Runway Sewing Machine SOLD OUT!

Ignite Your Passion for Fashion with 80 Built-in stitches and 10 one-step buttonholes!


Brother SDX230D Disney Scan N Cut DX incl. 20 Bonus Disney Designs!

SDX230D offers 132 built-in Disney Designs, 1,435 built-in designs in total, 140 Quilt patterns, and 17 lettering patterns and 17 lettering fonts. And, 20 Bonus Disney Deisng are available!


SALE:
$ 1,199.00

$ 799.00





Brother SB3734T Serger Overlocker

The SB3734T is the perfect model for an affordable, easy-to-use and easy to thread serger!


Brother Innov-is NS80 Sewing Machine

The compact and travel-friendly machine offers exceptional sewing quality that's easy to use!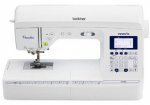 Brother PS500 Sewing Machine

The PS500 is sleek and stylish with a 2.4" x 1.3" LCD display, 100 stitches and an automatic thread cutter.


Brother Innov-is NQ1600QE Embroidery Only Machine

Perfect for embroidery enthusiasts, the durable and affordable embroidery-only machine lets you embellish and personalize your DIY projects! It includes state-of-the-art features such as the automatic thread trimming system and onscreen editing.


SALE:
$ 2,699.00

$ 1,499.00