Skip Navigation
Website Accessibility
Lights, Camera, Action!

Covid changes everything. Well almost everything. We opened an online store (
shop here
)! We started virtual classes (
sign up here)
! We're doing Facebook Live Fabric Sales every Wednesday (
click here
)! Now I'm filming my next series of IQ Designer videos for Baby Lock from my home studio. It's been a different experience where we are in control of the angles, lighting and what we show. It's been a learning experience for sure.
So here I am creating 3 more videos in the series - Volumes 5, 6 and 7 will be out soon. I look relaxed but believe me, it's been hard (and fun) work!
We've already started taking
pre-orders for Volumes 5, 6 and 7
in a special bundle. The bundle includes an autographed set of the 3 video volumes and a special fabric bundle! These are limited quantities so you'll want to purchase quickly.
I have to get back to the studio and store. We've got tons of
fall classes and events
, including some that are free! Please take a look and sign up so that you get more inspiration and learn new techniques. Thanks for your well wishes, support and friendship. Take care and hope to see you soon!
--------------------------------------------------------------------------------------------------------




I think it's hard to apply Marie Kondo's cleaning and organizing theories to sewists because almost everything about sewing brings us joy! Which is why we tend to keep everything. And because one of the most common new year's resolutions is cleaning up clutter, one of the most frequent questions I get asked is, "How do you organize your sewing room?"

Our customers openly say that their sewing rooms are in a state of chaos and clutter. (You may know what that feels like!) Anyway, some of these customers sew for pleasure, but also for revenue. So it's important to be organized and systematized as possible. Creating an ejoyable space makes it open, inviting and helps foster their creativity.

Here are some of the ways I like to approach cleaning up a sewing room. In any typical sewing room or space, there are three main components: 1) Furniture, 2) Storage compartments, and 3) Items that require storage.


1) Furniture: This includes cabinets, chairs, cutting and ironing tables, artistic presses, desks, tables, shelves, etc. – these items which contribute to the productivity of your sewing spaces immensely. Sewing tables and cabinets are specifically designed for sewists and can be custom to your needs. There are ones that have sections that fold away when not in use, folding tables (that are totally collapsible) and cabinets that can be utilized for multiple different machines. The furniture utilized in your sewing rooms may drastically affect your and can make it look organized and neat, or cluttered and congested. Fancier options like electric (air lift) cabinets or manual lift cabinets are perfect for someone who wants to invest in their space. My favorite are the notions trays are available for each drawer in the cabinet. Even chairs are available with storage compartments for maximization of space. Who knew?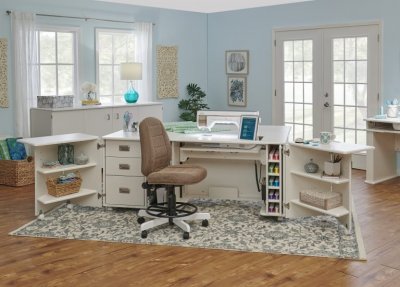 2) Storage: My favorite ways to store items are clear drawers that pullout or are stackable. If I don't see it, it doesn't exist. These are a fantastic solution to maintaining a tidy, organized sewing area. When I utilize smart storage, I can maximize every inch of accessible space. For example, thread may be sorted in boxes specifically designed for them because I want to see them all. Stackable caddies may be utilized for projects that are ongoing. There are even clear, hanging organizers that conserve space because they can be hung, rather than stacked. Cute wall buckets for storing items can be a decorating and storage option.

3) Items that need storage: Let's be real, everything needs a storage space! I've seen ironing boards attached to the tops of shelves, which is a great idea. And folding your fabrics in certain ways will allow you store large amounts of them, which is absolutely crucial. (I think I should do a video on how to store fabric soon.) It's important to label each container in a concise manner like machine feet. They may be placed in containers with dividers and lids, so that they are in one specific place, rather than in a junk drawer. These are valuable and sometimes expensive items so I like to treat them as gems.


We're happy to talk about organizing you with you. We can show you the latest sewing cabinets, tables, chairs and storage containers for all your sewing needs. Let us help you to start the New Year right!
Sewingly Yours,
Salima
Decorative stitches, according to Liz Johnson, editor at http://www.Sew4Home.com, "are tiny pieces of thread art." Although loved and adored by many, they are often forgotten and overlooked, due to the focus that we place on the seams of a project's construction. Just a few decorative stitches add so much to any project. One may experiment with different colors and types of thread (i.e., polyester, variegated, rayon, metallic, neon), spacing of stitches and stitch widths, which will produce various textural effects. The possibilities of what to embellish with decorative stitches are endless. For example, aprons, matching bed sheets and pillowcases, pillows, purses/bags, bath and tea towels, appliqués, garments, wall hangings, heirloom sewing, basically anything! Whatever the project, decorative stitches will enhance their aesthetic value immensely
Other creative ways to use these stitches are when quilting. One may utilize decorative stitches when stitching in the ditch or when sewing down bindings, to embellish ribbons or when sewing strips of fabric together (border stitch). Outline stitches are used for outlining your design. Detached stitches fill in open areas of designs and filling stitches can create shading or fill.
Decorative stitches add texture and will take one's project from the ordinary to extraordinary. One is only limited by the scope of one's imagination.
Welcome to AAA SEWING & FABRIC's first blog posting! Please check in with us regularly, as we will constantly be updating our blog. Thank you for visiting us here, and please stay connected with us on Facebook, Instagram, and Pinterest.
In my household, my sons are always fussing about whose towel belongs to whom. I have opted to have towels of the same color for my boys, as they match the colors of the bathroom. A simple solution to this problem was embroidering their initials on the towels. I chose a large built-in monogram on my embroidery machine for this task. Not only have I eliminated the confusion revolving around the ownership of the towels, but these simple decorative details also added immensely to the whole décor of the bathroom.
Monogramming can be useful in other situations as well. One can personalize gym towels, clothing and accessories, notebooks/binders, purses/backpacks, items for a wedding (i.e., napkins), phone cases, pillows, hats, umbrellas, basically anything!!!
Sewingly Yours,
Salima
Click on the Icon Below to read our BLOGS!