Lights, Camera, Action!

Covid changes everything. Well almost everything. We opened an online store (
shop here
)! We started virtual classes (
sign up here)
! We're doing Facebook Live Fabric Sales every Wednesday (
click here
)! Now I'm filming my next series of IQ Designer videos for Baby Lock from my home studio. It's been a different experience where we are in control of the angles, lighting and what we show. It's been a learning experience for sure.
So here I am creating 3 more videos in the series - Volumes 5, 6 and 7 will be out soon. I look relaxed but believe me, it's been hard (and fun) work!
We've already started taking
pre-orders for Volumes 5, 6 and 7
in a special bundle. The bundle includes an autographed set of the 3 video volumes and a special fabric bundle! These are limited quantities so you'll want to purchase quickly.
I have to get back to the studio and store. We've got tons of
fall classes and events
, including some that are free! Please take a look and sign up so that you get more inspiration and learn new techniques. Thanks for your well wishes, support and friendship. Take care and hope to see you soon!
--------------------------------------------------------------------------------------------------------

Enter the It Takes a Village Sweepstakes

Surprise! We're sharing something new: a sweepstakes that supports the
video tutorial
for the It Takes a Village Quilt. You can win a fabric kit to make 16 of the adorable blocks you saw in the video. All you have to do is
click here to enter
! Hurry - entries are accepted until 8/22/20. Enjoy and good luck to everyone!
________________

Behind the Scenes...or Maybe Behind the Seams!
I've been working behind the scenes on some fun, new things. It's been in the works for a while and I've decided to let the cat out of the bag...Introducing Salima Creates! It is a new venture where I'm offering pre-recorded sewing classes available for anyone, anytime. Don't worry, I will still do live classes and tutorials too.
Just to get everyone familiar with the classes, I will be doing my first video for the In-the-Hoop Embroidery House Block from It Takes a Village Quilt. If you have been following on email and Facebook, you may recognize it as the blocks we created while we were quarantined. These house block symbolized us sewing together as a community even while we were apart. If you want to learn how to make these blocks quickly and in the hoop,
please see pre-recorded video tutorial

!
If you want to see the video, just click on
this link
and you'll see the Facebook Live video I did. And i
f you'd like to learn more, please like
Salima Creates Facebook page
.

You can get more projects, tips and videos in the future. Can't wait to see you there!
____________________

Reopening the Store and Other Transformations

To the AAA Sewing Community,
You've stuck with us through thick and thin and we've felt your support along the way. From our first Facebook live fabric sale, to new Zoom classes and our virtual education events. We loved your participation with the shop - and we are forever grateful.
Now, we have reopened for business: in store or online! In-store, we have implemented health and safety measures to make you feel comfortable while shopping in our store. We are open Tuesday through Saturday from 10am to 3pm.
If you're not comfortable visiting us in person, you can alway "visit us' online - AAASewingAndFabric.com. We've added hundreds of fabrics and notions. You can even pick them up through our convenient and contactless drive through process.
To celebrate our Grand Reopening, we are announcing a sale:
We are allowed to ship Baby Lock and Bernina machines locally. We can also provide curbside pick up and even deliver with in a 25 miles radius!

Financing options are available at all price points!

We will also match competitors' pricing so please do not hesitate to ask!
Click below and if any of these machines interest you, please contact me with your name, phone number and machine you're interested in. I will personally call you with details and would love to make a deal! So please join me in celebrating our Grand Reopening. We're celebrating a lot of things. But mostly our connectedness through our love of sewing.
________________________________________________________
Staying together, even when we're at home.
If you haven't seen the post on Facebook or on our

Events Page

, we are creating an adorable house block for a community quilt. It's called, It Takes A Village:
Let's all come together and Sew a Block! Use the FREE pattern found here and sew a block. You can use any cotton fabric of your choice. You can even add an embroidery if you choose. Be sure to autograph your name on the front of the block. When you are done, please drop if off at the store. Once we receive all the blocks back, we will put it together. It will be our FIRST AAA Sewing and Fabric Quilt! I'm not sure what the quilt will look like. I'm sure it will have everyone's favorite colors and patterns. Each block will be individual, just like each sewist. Once it's quilted, it will show how we were "together" without being together during this quarantine. So please join in because we'd love to see you in this quilt!
____________________________________________
____________________________________________

Hey everyone,
Since everyone is probably sewing at home, we decided to launch an online Sewalong on Facebook! Join us starting Tues., 3/24 and we'll be able to share our fabric selections, tips and techniques we've learned along the way and the final projects. If you miss any of the videos, you can scroll through and watch the previous ones on our Facebook page. Click
here to see the first video
.
____________________________________________
Maybe you've seen our announcement on Facebook (you can follow us
here
!
) or maybe you haven't. We've launched our very own pattern line! It's so very exciting because our loyal customers who have purchased their sewing machines from us are the ones who get access to them through their club membership. These patterns are created and tested by our amazing education team. (Did you see their class preview at Teacher's Open House 3/1???)
Our clubs meet monthly,
delve further features and techniques through a hands-on project.
Want to learn more about our clubs? Take a
look at all of our fun clubs
here!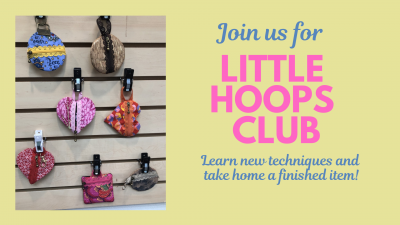 ____________________________________________


Decorative stitches, according to Liz Johnson, editor at http://www.Sew4Home.com, "are tiny pieces of thread art." Although loved and adored by many, they are often forgotten and overlooked, due to the focus that we place on the seams of a project's construction. Just a few decorative stitches add so much to any project. One may experiment with different colors and types of thread (i.e., polyester, variegated, rayon, metallic, neon), spacing of stitches and stitch widths, which will produce various textural effects. The possibilities of what to embellish with decorative stitches are endless. For example, aprons, matching bed sheets and pillowcases, pillows, purses/bags, bath and tea towels, appliqués, garments, wall hangings, heirloom sewing, basically anything! Whatever the project, decorative stitches will enhance their aesthetic value immensely
Other creative ways to use these stitches are when quilting. One may utilize decorative stitches when stitching in the ditch or when sewing down bindings, to embellish ribbons or when sewing strips of fabric together (border stitch). Outline stitches are used for outlining your design. Detached stitches fill in open areas of designs and filling stitches can create shading or fill.
Decorative stitches add texture and will take one's project from the ordinary to extraordinary. One is only limited by the scope of one's imagination.
Welcome to AAA SEWING & FABRIC's first blog posting! Please check in with us regularly, as we will constantly be updating our blog. Thank you for visiting us here, and please stay connected with us on Facebook, Instagram, and Pinterest.
In my household, my sons are always fussing about whose towel belongs to whom. I have opted to have towels of the same color for my boys, as they match the colors of the bathroom. A simple solution to this problem was embroidering their initials on the towels. I chose a large built-in monogram on my embroidery machine for this task. Not only have I eliminated the confusion revolving around the ownership of the towels, but these simple decorative details also added immensely to the whole décor of the bathroom.
Monogramming can be useful in other situations as well. One can personalize gym towels, clothing and accessories, notebooks/binders, purses/backpacks, items for a wedding (i.e., napkins), phone cases, pillows, hats, umbrellas, basically anything!!!
Sewingly Yours,
Salima
Click on the Icon Below to read our BLOGS!